Being near and natural is the only way forward to a sustainable world

We want to make a difference with skincare that is good for the body as well as the planet. From our factory in the small, coastal town of Frillesås, Sweden we do our part for a better world, one natural product at a time. Our natural ingredients are purchased straight from the growers and often times from the ones next door. Our local connection and the values that are inherent in the land here play a great part in our strength and success. Caring for the planet has always been natural to us, long before sustainability became a fashion statement.​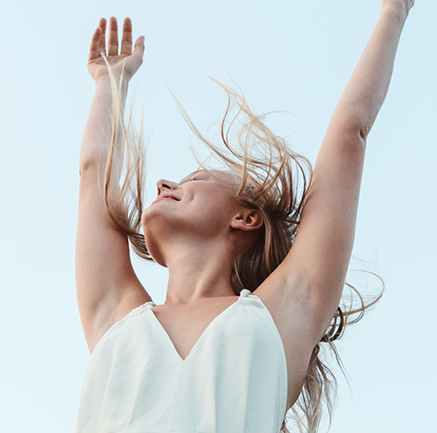 No room for the unnecessary

We are exposed to many chemicals and toxic substances every day and our body absorbs a lot of what we put on it. Knowing how the content of skincare products affect both our bodies and our planet is the foundation for our company. Our mission is to spread knowledge that will make consumers more critically aware. That is why we always provide information about all the ingredients in our products. It has been the only way forward for us since we first started out in 1995, long before complete declarations of content became statutory. And that has actually made us pioneers in natural skincare.
Only ingredients from our nature
We believe in natural minerals and pure ingredients from the plant kingdom that give the skin all the nourishments it needs to stay healthy and beautiful. Synthetic ingredients dry out the skin, lack fatty acids, vitamins and antioxidants. They decompose very slowly in nature and are stored in our bodies as well as the animals'. Hence, our products contain no chemical emulsifiers, preservatives or emollients. We let renewable, plant-based oils, cold pressed and essential, do the work while contributing to a more sustainable use of natural resources.

We don't believe in synthetic fragrances and only use aromatic essential oils distilled from nature. We don't use any artifical colouring either. Our products get their colour naturally from the ingredients. We care for the animals and use no animal-based ingredients. We do believe that bees are part of a healthy eco system and that is why we use Beeswax and Honey in some of our products.

We use water that is much purer than regular drinking water. It is called Aqua Purificata and it comes from nearby lake Lygnern. It is one of the purest waters in Sweden, filtered through the 13 000-year-old end moraine Fjärås Bräcka.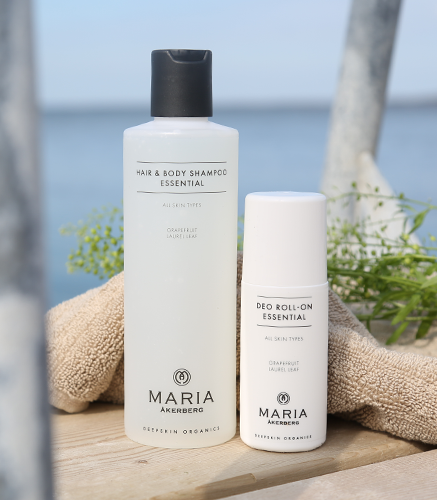 We want the stuff we dispose of to be transformed into new things

Primarily, our waste goes to material recycling. Whatever can not be recycled is used to produce energy, a good alternative to turn our waste into electricity and heat. ​
All empty containers from MARIA ÅKERBERG can be recycled!​
All our packaging can and must be recycled or burned. Nothing should be discarded in nature. We have chosen not to include biodegradation additives in our plastic. If only one plastic bag with additives end up in a batch of collected plastic, that whole batch is ruined.

We are affiliated with the organisations that ensure proper recycling of glass, packaging and newspapers in Sweden. This way we fulfill our responsibility as a manufacturer, by contributing not only to collection and recycling, but also to administration, such as information and reports to customers and authorities.

Throw your empty bottles in the recycling bin too!

Glass can be recycled an unlimited number of times without degenerating its quality. Some of our oils require glass containers, since essential oils are too strong to be stored in plastic. It is more energy-demanding to make glass than to produce plastic. Glass recycling saves both material and energy. Melting recycled glass is 20% less energy-demanding than making new glass, using sand, sodium carbonate and calcium carbonate. It also generates smaller carbon dioxide emissions.​
Business subjected to permit or notification duty according to the Environmental Code​
MARIA ÅKERBERG AB is a business with notification duty according to the Environmental Code. The regulatory agency is the municipality of Kungsbacka. MARIA ÅKERBERG AB takes full manufacturing responsibility for container recycling by being affiliated with the FTI, Förpacknings & Tidningsinsamlingen, in Sweden as well as with Swedish Glass Recycling.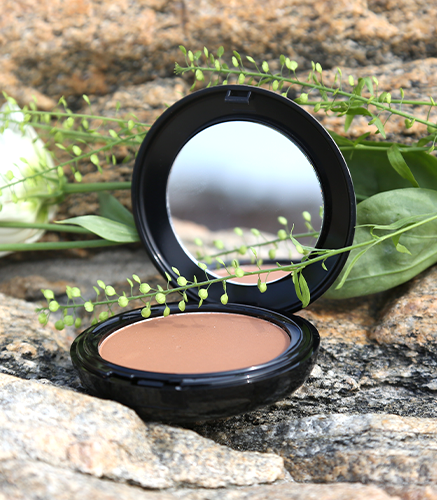 All our printed materials are made of environmentally friendly paper
Recycling benefits everyone. The cardboard that we purchase is made of locally produced wood fibre from forests in Sweden and our corrugated cardboard consists of recycled material. Recyclable paper is an attractive primary product and an important complement to fresh wood fibre. Paper fibres can be recycled 5–7 times before they become useless.
Our packages are as natural as our content!
We take environmentally hazardous emissions seriously. To minimise our own carbon footprint, we have taken the initiative to develop new, natural plastic bottles and tubes made of 100% plant-based material from sugarcanes. Our bioplastic is completely biologically based and binds four times as much carbon dioxide as traditional plastic. Burning our packaging generates water and carbon dioxide only, substances that are consumed by sugar canes. Since the actual process of producing bioplastic also consumes carbon dioxide, the total process is not only carbon neutral; it even uses more carbon dioxide than it generates. The packages are made a few miles from our MÅ factory and are dyed with white clay. You may recycle them in the same bin as regular plastic!
We work with minimised energy consumption
To make the impact on our environment as small as possible, we have covered the roof of our building with solar panels and use this power, as well as geothermal heating, in our business. We are proud to say that the Sweden Green Building Council has certified our headquarters of the highest grade. We reuse computers as firewalls and test servers. We use low-energy and virtual servers to optimise processing time and reduce electricity consumption. Low-energy hardware alternatives are used as much as possible. All computers and screens are shut off at the end of the workday, to minimise energy consumption.
We stay as close as possible
We always strive to find suppliers nearby in order to reduce our carbon footprint. For instance, our bioplastic bottles are produced in Ullared, only 50 kilometres from our Frillesås factory. Our bottle holders are produced in Holland, our northern European neighbour. Our cardboard of wood fibre comes from Swedish forests.
Our coffee is just as sustainable as our banker
We believe in being respectful in both the small and large perspective in order to make a difference in this world. Our dedication to sustainability is deeply ingrained in all parts of our company, manifesting itself in conscious purchasing, transportation and energy consumption. Our packing tape is free from harmful solvents, we have our own compost and we offer organic coffee, tea and fruit to our guests and staff. We have even chosen a bank that is environmentally certified.

We take our CSR (Corporate Social Responsibility) very seriously and believe that all companies need to respect human rights, labour rights and uphold environmental standards, regardless their way of working or wherever they are in the world.

Do you have questions or ideas about how we might be able to do even more? Send us an e-mail to info@mariaakerberg.com!


To install this Web App in your iPhone/iPad press
and then Add to Home Screen.